Wiki created July 20, 2010‎
Information
Edit
Alternative Titles
English: Ghost Stories
Synonyms: Ghosts at School
Japanese: 学校の怪談
Type: TV
Episodes: 20
Status: Finished Airing
Aired: Oct 22, 2000 to Aug 24, 2001
Producers: Studio Pierrot, Fuji TV, Aniplex
Licensors: ADV Films, Discotek Media
Genres: Mystery, Horror, Supernatural
Duration: 24 min. per episode
Rating: PG-13 - Teens 13 or older

Ghost Stories (学校の怪談 Gakkō no Kaidan?, literally "School Ghost Stories"), also known as Ghosts at School, is a 20-episode anime series created in 2000 by animation studio Pierrot and Aniplex for Fuji Television, based on a book series by Tōru Tsunemitsu. It original ran from October 22, 2000 – March 25, 2001.
The story begins with Satsuki Miyanoshita, who moves with her family to the hometown of her deceased mother. On her first day of school, Satsuki; her brother Keiichirou, a first-grader; their neighbor Hajime Aoyama; Momoko Koigakubo, an older schoolmate; and Leo Kakinoki, a classmate and friend of Hajime's with a penchant for the paranormal visit the abandoned school building adjacent the current school complex and discover that the building is haunted.
It is soon after revealed that Satsuki's mother was responsible for sealing several ghosts who haunted not only the school but also the town, and now they are released due to the urbanization taking place in the surrounding area. Satsuki's mother left behind a book detailing how to exorcize the ghosts once and for all. In her first confront, Satsuki faces a demon called Amanojaku, but in the process Amanojaku is sealed within Satsuki's pet cat, Kaya. Although Amanojaku does not want to help Satsuki at first, the danger soon threatens to envelop the town and it is left up to Satsuki, her friends and Amanojaku to stop the ghosts.
This is a virtual encyclopedia about the Gakkou no Kaidan Series that anyone can edit! Upload photos, edit articles... Have fun!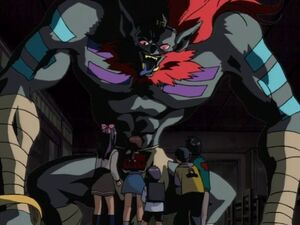 Please do not vandalize or Amanojaku will get you!
*Just Chant "Jaku-Jaku Go To Sleep"*
Community content is available under
CC-BY-SA
unless otherwise noted.